We here at GiReviews.net are always looking for the best products, services and projects to share with our fellow grappling enthusiasts. A project both of us have been supporting for quite a while is TapCancerOut (TCO) created by Brazilian Jiu Jitsu Purple belt Jon Thomas.
From the site: "Tap Cancer Out is a jiu-jitsu based 501(c)(3) nonprofit organization that raises awareness and funds for cancer fighting organizations on behalf of the grappling community. We do this through direct donations, sponsors, and hosting events."
TCO makes some really great quality patches, rashguards and shirts that you can pick up from their site's store. And when you purchase any of their goods you get the satisfaction of knowing that all of the profits go directly to fighting cancer. They help host charity tournaments among many other endeavors.
Here is Jon giving a $22,658.11 check to the Leukemia and Lymphoma Society:
This was in 2012. Their donations have been consistently increasing every year, and 2015 saw their total donations sent to beneficiary surpass the $100,000 mark!
I cannot express how important of a cause this is. I don't want to die knowing that I didn't do everything I could to ensure people like my son have a cure if he was to ever get cancer.
Cancer hits very close for me. With the constant bickering on the news over wars and politics, things like Cancer get left out of the discussion and it's up to us to raise the issue.
MILLIONS of people die from Cancer each year. In the United States over 1,500 people are estimated to die every DAY from Cancer. To put that into perspective 6,570 servicemen have died in Operations Iraqi Freedom and Enduring Freedom COMBINED. It takes less than 5 days for Cancer to surpass that death toll.
Unlike most corporations there are no lobbyists with endless resources at their disposal to bring more attention to Cancer at the highest levels of our government. It's up to us people. Get out there and do something about it.
Want to support Tap Cancer Out and get an awesome gi in the process?
Our Way of Supporting Tap Cancer Out
We've been absolutely blown away at the effort that Jon Thomas has put forth with Tap Cancer Out and we are doing all that we can to support him.
With that in mind, we to announced the Official GiReviews store in 2012. The GiReviews store featured gently used gis that I have reviewed in the past.
Important Note: The GiReviews store is no longer active. We'd like to thank all who joined us in this effort!
Our stated goal was to sell all of our extra gis and then proceed to send a massive check to Tap Cancer Out!
We only sold gis that we think are worth reselling so if you have any questions about the gis that were sold, feel free to read the accompanying review, or just send us an email and ask!
In addition, GiReviews patches were also put up for sale in the Gireviews Store.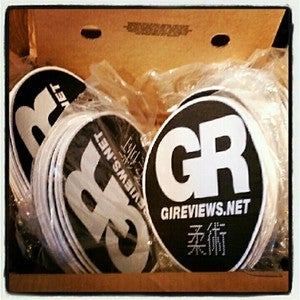 How you teamed up with us to send TapCancerOut a big ole' check.
After selling a bunch of our used Gi's we had a nice check to send to TapCancerOut to help their cause!
We really loved having been able to help in this way because not only did WE help, but YOU helped. We posted our used Gi's and you guys bought them! We couldn't have done it without you! Community involvement is what projects like this is ALL about.
We obviously can't thank you enough for contributing!
I just wanted to personally thank everybody who has helped us raise money so far in 2014 to benefit Tap Cancer Out.  All funds have been raised through the sale of gently used gis in the GiReviews.Net store and we raised $650!
If you want to continue to support Tap Cancer Out, you may do so by donating directly to them via their Donation page.
Thanks again for all of your support!
ARTICLE ORIGINALLY PUBLISHED IN OCTOBER 3, 2012